£8.3m tidal flood defences open in east Devon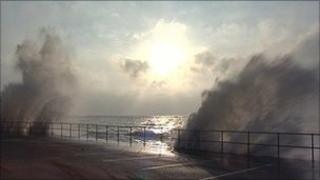 An £8.3m flood defence scheme in Devon has been opened after seven years of work to plan and build it.
The scheme will reduce the risk of tidal flooding to 453 homes and businesses in Shaldon and Ringmore, said the Environment Agency.
The organisation created and raised foreshore walls, installed 10 floodgates and a pump station to help resolve the issues of surface water.
Construction started in January 2010 and was completed in May 2011.
The Environment Agency said there had been no recent history of flooding but there were near misses in October 2004 and March 2008.
The parish council will operate the flood gates with 40 volunteer wardens.