Jack Sadler's Exmouth father Ian accuses MoD on death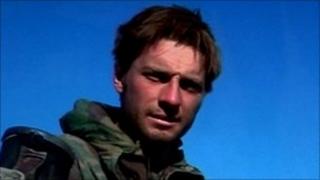 A Devon father has accused the Ministry of Defence (MoD) of holding back information over the killing of his son in Afghanistan.
Trooper Jack Sadler, 21, died when his vehicle hit a landmine in Helmand Province in December 2007.
His father Ian, of Exmouth, says he has not been told why it took 50 minutes for Jack, who was still alive after the attack, to be evacuated by helicopter.
Officials said they had given all the information available.
Trooper Sadler died in the helicopter as he was being flown to a military hospital.
Following Trooper Sadler's inquest in July 2009, Darren Salter, deputy coroner for Exeter and greater Devon, wrote to the MoD raising his concerns about the use of light patrol vehicles.
'Massage the facts'
He recorded a verdict of unlawful killing, but said the MoD had not been negligent.
Mr Sadler had planned to sue the MoD, but abandoned it in 2010, saying it could bankrupt him.
He said: "The MoD can take it on themselves to massage the facts to make things look as if they are as they should be.
"If the MoD was a private company I think there would be a case against them for corporate manslaughter."
The MoD said in a statement: "Our sympathies remain with Mr Sadler following the death of his son.
"The coroner investigating Jack's death was given access to all the information available."