Cuttlefish hatch in Newquay from lobster pot eggs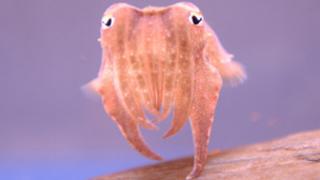 More than 100 cuttlefish have been born at an aquarium from eggs donated by a fisherman who found them attached to his lobster pot.
Cameron Henry, who is based in Mylor, Cornwall, donated the eggs to Blue Reef Aquarium in Newquay.
The aquarium said that from hatching the cuttlefish can display at least 13 different types of body pattern.
Scientists believe cuttlefish change shape and colour to communicate to each other and confuse their prey.
Blue Reef's Matt Slater said: "Although they're each only a few centimetres long you can already see them changing their shapes and colours.
"Despite their size they're natural born predators and are able to kill and eat a shrimp twice their own length on the very day they hatch."