Quarter of shops 'stand empty' in St Austell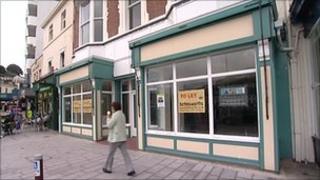 A quarter of shop units in one Cornish town are standing empty, according to research.
Figures compiled by The Local Data Company (LDC) revealed that 25% of shop units in St Austell were not being used. The figure was 22% in Redruth.
Two in 10 shop units stand empty in Ilfracombe, Devon while 16% are vacant in Plymouth.
Paul Scott, chairman of the St Austell Chamber of Commerce said he believed the figures were incorrect.
Mr Scott said: "I think it's totally wrong, because there isn't 25% empty shops in St Austell town.
"When they become empty they're being taken. There's five new shops. There's so much positivity going on in the town.
'Positive picture'
"Footfall is definitely up, and I think personally that St Austell has come through the recession remarkably well."
The research also showed that 12% of units are vacant in Exeter.
City centre manager, John Harvey said: "The picture for Exeter is rather better than they're suggesting.
"There's real confidence in this city at the moment, people recognise that we have the strategy to move the city forward and business are backing that by saying 'yeah we want to be part of that'.
'Open for business'
"The picture for Exeter is a very positive one at the moment."
LDC said the data was compiled by walking through shopping areas and counting the number of empty shops and vacant units in shopping centres.
But Robert Zarywacz, chairman of COMBEbusiness in Ilfracombe said the data had "taken a lot of people in the town by surprise".
He said Ilfracombe shops "are very much open for business", and that he had calculated 9.6% were not in use, less than half the figure recorded by the LDC.
LDC said the UK average for empty shops was 14.5% with the main factors including the "significant growth" of out of town retail shops as well as supermarkets which had increased their share of sales from 35% to 43%.