Skimming devices found on Devon cash machines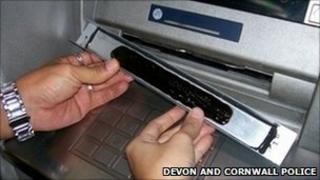 Skimming devices have been discovered on some cash machines in Devon.
Police said false panels had been fitted to the front of ATMs in Torbay, as well as in Teignbridge and Plymouth, over several weeks.
When people used cards and no money was dispensed, they went and sought help, allowing offenders to take the skimming machine and cash.
Police said they believed a gang and a maroon-coloured vehicle were involved in the incidents.
Det Insp Nick Wilden, of Devon and Cornwall Police, said: "We believe this is a highly-organised enterprise, possibly involving criminals from out of the area.
"Bank CCTV is being reviewed, as are sightings of a maroon-coloured vehicle believed to be involved in these offences."
Devices seized were being examined by forensic specialists, he added.
Police said they were warning the public to check for suspicious devices attached to machines.