Paignton monkey, Didius, flown to New Zealand to breed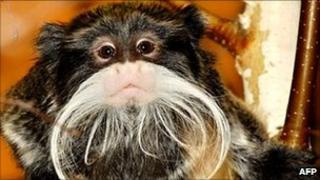 An monkey born in Devon has been flown half way around the world to a zoo in New Zealand for breeding.
Didius, a small female emperor tamarin, has been flown 12,000 miles (19,000 km) to Wellington Zoo in New Zealand.
It is hoped the primate, who was born at Paignton Zoo in May 2007, will breed for the first time in her new home.
Paignton Zoo is part of the European Endangered Species Programme for emperor tamarins, which is managed by Lisbon Zoo in Portugal.
The emperor tamarin is so called because of its long white moustache, which it is thought helps individuals to signal and recognise each other.
The primates are normally found in Bolivia, Brazil, and Peru.
Following Didius' departure, Paignton Zoo now has five male and five female emperor tamarins, which are considered endangered due to the destruction of their habitat.