Devon plants microchipped to prevent theft from flowerbeds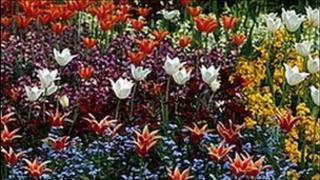 Plants in Devon are being microchipped to prevent thieves from stealing them from council flowerbeds.
East Devon District Council is adding the chips to plants in its displays after several were stolen across the borough.
The chips, which the council said cost "pennies", can be scanned to indicate the plants belong to the authority.
The council said it believed it was the first scheme of its kind in the UK and could save money in the long term.
'On their guard'
Councillor Iain Chubb said: "One week we lost about 50 heathers from a garden in Honiton, which cost about £200.
"In Axminster about 70 plants were taken from a flower bed overnight."
He said there had also been similar incidents in Exmouth and Sidmouth.
Mr Chubb stressed the thefts were "on a small scale" and he believed the plants were being stolen by people who wanted them for their own gardens, or to sell on.
He added: "We are not mentioning where the plants are being tagged.
"They will be tagged randomly in East Devon, so people will have to be on their guard."