Hundreds march in rival protests in Plymouth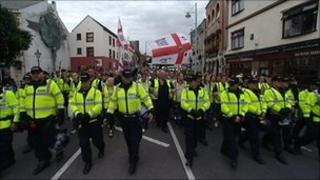 Up to 400 police officers from four different police forces were drafted into Plymouth as hundreds of people took part in rival protest marches.
About 150 supporters of the English Defence League (EDL) marched through the city on Saturday.
Between 300 and 400 people staged a counter-protest organised by Unite Against Fascism (UAF).
Devon and Cornwall Police said there had been six arrests.
One person was arrested for a racially aggravated public order offence, one for possession of a weapon and one for assault.
Three people were also arrested for breach of the peace.
Officers were drafted in from the Dorset, Avon and Somerset and Wiltshire forces to assist Devon and Cornwall Police.
The UAF event was billed as a "multicultural celebration of diversity".
The EDL organisers said the march was in protest at the "Islamification" of the UK.
Supt Craig Downham, from Devon and Cornwall Police, said: "This was a considerable policing operation and my hope is that the public felt reassured by the number of police officers.
"Our aim was to lessen the impact of the marches as much as possible while allowing their right to peaceful protest."
Other EDL marches were held in Cambridge, Middlesbrough and Halifax.