Brixham sperm whale sighted for second year running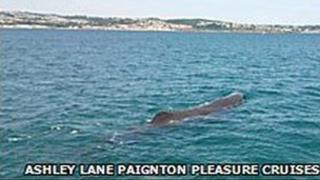 A sperm whale has been reported off the south Devon coast in almost exactly the same place one was spotted in 2010.
The mammal was spotted by the skipper and passengers of a pleasure boat near Brixham on Saturday.
The Sea Watch Foundation said the 9m (29.5ft) long mammal could be the same whale that was spotted in the area in June and July 2010.
It said having a sperm whale sighting in the same place two years running was "interesting".
The pleasure boat had just passed Sharkham Point when the skipper, Ashley Lane, saw the whale between 100yd and 150yd (about 100m to 150m) away.
Mr Lane, who also saw the whale in 2010, said: "This was a chance in a lifetime sighting for our passengers, a rare and beautiful sight.
"They were astounded. The animal was about 9m to 10m long, and was moving ahead of us so we held back and gave way to it."
Sea Watch Research Director, Dr Peter Evans, said: "Sightings of sperm whales in coastal waters around UK are rare.
"The species normally occurs far offshore in waters of 1,000 to 3,000m (0.6 to 1.9 miles) depth.
"To have a sighting in almost the same location at about the same time two years running is very interesting.
"We've not seen any photos as yet but the chances are it could be the same individual."