Sticklepath village church in closure threat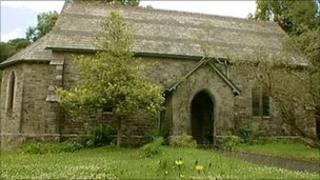 Devon villagers are fighting to keep their church open.
The Diocese of Exeter has started the process of consultation on closing St Mary's in Sticklepath.
It says that with about six regular worshippers and another church about 1.2m (2km) away at Belstone, St Mary's could be closed.
Some villagers say the church, which was built in 1875, is still an important part of the local community and should be saved.
'Real commitment'
Kim Davis said: "I know not a lot of people attend services, but I think quite a lot of people come in here for a quiet moment, for meditation and prayer.
"We are custodians of this church and if we let it go we will never have it back again."
Bishop of Exeter, the Right Reverend Michael Langrish, said the closure process would include talking to the villagers and considering alternative uses.
He said: "It's one thing to say it's lovely to have a church to go into at any time of the day.
"But you then have to ask who is going to maintain that church, that it is open, welcoming, wind and rain proof.
"It is important that those voices are heard, but with those voices has to come a real commitment of time, energy and money."