South Efford marsh returns as wildlife haven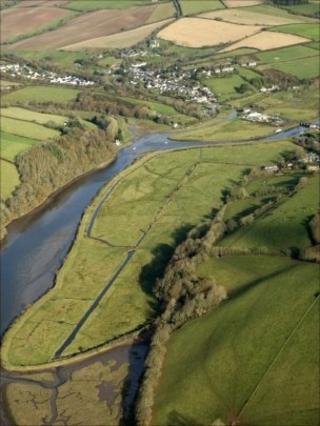 A Devon salt marsh has been revived as a haven for wildlife, thanks to a £300,000 restoration project.
The marsh at South Efford near Aveton Gifford was separated from the Avon estuary in the 18th Century to create pasture land.
Now the Environment Agency has put in a sluice gate to let the tide cover the lowest-lying areas, creating pools for birds and plants.
Devon Wildlife Trust will manage the marshland on a 21-year lease.
The sluice gate will automatically close to avoid the threat of flooding to neighbouring land and properties.
Mike Williams from the Environment Agency said: "Public access will be encouraged and we hope to create opportunities for schools and colleges to learn more about salt marshes and estuaries."
Matt Boydell of the Devon Wildlife Trust said: "We have not managed salt marsh like this anywhere.
"It really is a fantastic opportunity for us to work with the environment agency and with the local community."