Plymouth 'teenage beggar' plays at St Pancras festival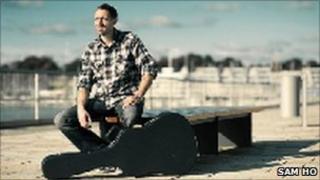 A Plymouth musician who slept rough as a teenager is performing at a London music festival.
Sam Ho, 31, started sleeping on the streets of Plymouth at 15, busking in the train station for spare change.
Following a stint in a young offenders institution he was awarded a grant from the The Prince's Trust to set up as a musician.
He will perform at the Station Sessions festival at St Pancras International on Monday.
'The loneliest night'
Mr Ho said he had started sleeping rough after falling out with his family.
"One freezing night in February was one of the worst nights of my life.
"I tried to sit in the lobby of a hotel to keep warm but I was soon asked to leave.
"It was the loneliest night of my life - I will never forget how helpless I felt. I didn't even have a coat."
After eight months Mr Ho said he had fallen in with the wrong crowd and ended up in a young offenders institution.
But he said his four-year-term for robbery had been the catalyst for turning his life around, first by learning the guitar and then by securing a grant from The Prince's Trust to set up as a musician.
Mr Ho said: "When I see groups of young people in their mid teens, I can't believe I was sleeping rough at their age.
'Change my life'
"It never fails to shock me how young they look and how easy it is for a young life to spiral out of control.
"Taking part in Station Sessions would be a great way to show my appreciation.
"I used to hang around train stations because I had nowhere else to go - I used to wish no-one could see me so I wouldn't get moved on.
"I would be proud to stand tall on the stage at St Pancras and give back to the charity that helped change my life."
Station Sessions started on 15 June and runs for six weeks.
Headliners the Guillemots opened the festival.