Fisherman airlifted after Brixham quarry fall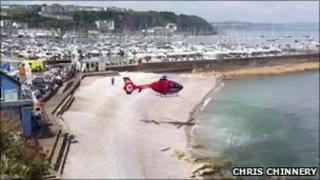 A fisherman who fell into water from a quarry platform in Devon has been airlifted with head injuries.
Coastguards said they were alerted to the 72-year-old angler falling into the sea at Berry Head quarry in Brixham at about 1100 BST.
The man was taken to a beach by lifeboat and an air ambulance flew him to Plymouth's Derriford Hospital.
Police, Torbay Council's patrol vehicle, ambulances and both Brixham lifeboats took part in the rescue.
Stretcher in water
An inshore lifeboat crew found the man in the water, bleeding heavily from a head wound.
He was being cared for by people on board a local angling boat who were leaning over the side to keep him steady in the water, the RNLI said.
An RNLI crew volunteer boarded the angling boat and, with the help of three crew in the inshore lifeboat, got a stretcher under the man in the water.
They used the stretcher to scoop the man up and on to the lifeboat where they started to treat him while the boat brought him to Breakwater beach for put him on the helicopter, the rescue charity said.
The man's condition is not known.