Villagers pay for Bishopsteignton church clock repairs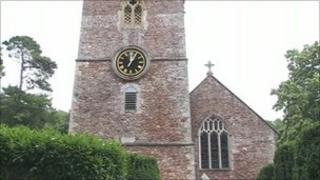 Residents of a Devon village have funded work to repair and clean a church clock in a restoration project.
The 160-year-old clock at St John the Baptist Church in Bishopsteignton has not been working for 10 years.
Restoration has been going on inside the church, funded by a £400,000 bequest, but not the clock.
Villagers said they had raised several thousand pounds for the work on the clock, which is believed to have been built in about 1850.
Church warden Hilary Corlett said: "The fact that it hasn't been going for 10 years is rather sad. It looked like the church wasn't open for business.
"It was through village support and fundraising that we got the money to get it repaired."