Torbay public buildings solar panel scheme considered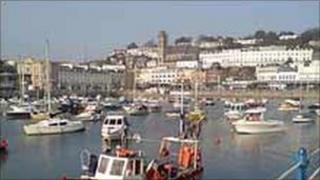 Public buildings across Torbay, in south Devon, could be fitted with solar panels in a council scheme to generate income from the energy created.
The council claims that over 25 years it would make £1.5m from the panels on 45 buildings, including the town hall.
It will debate later whether it should borrow £1.8m to fund the project.
Torbay's deputy mayor, David Thomas, said it was one of the "best places in the country" to make use of solar energy.
The area, made of up of Torquay, Paignton and Brixham, is known as the English Riviera.
'Invest to save'
Mr Thomas told BBC Radio Devon: "Torbay has an absolutely ideal opportunity for sunshine.
"This is an 'invest to save', this is an income generator for Torbay Council.
"I'll be very happy that we'll be saving £1.5m for the people of the bay."
He said fitting the solar panels would mean the council was paid for the energy generated and would also be paid for unused energy exported to the grid.
He said the council would also make savings on its energy bills and had a "duty" to reduce its carbon dioxide emissions.
Torbay Council has until April 2012 to take advantage of the government's clean energy cash-back scheme.
A number of other councils around England have already taken it up.