Torquay hotel took more guests after norovirus outbreak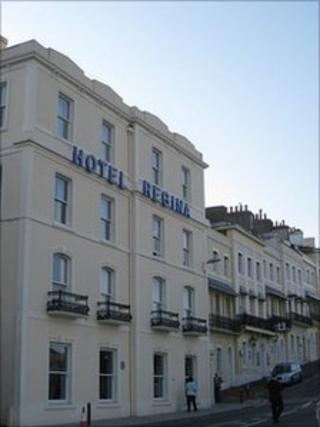 A Devon hotel continued to accept guests while others were confined to their rooms with norovirus, the BBC has learned.
The Regina Hotel in Torquay said it had not breached any guidelines by accepting new guests.
Colin Hicklin, 80, from Derby, said he and his wife were told to stay in their room for three days when they were ill.
Alfa Travel Ltd, which owns the hotel, said isolating guests was "the only sure way to control the disease".
Mr Hicklin said he and his wife paid a total of £1,500 to travel and stay at the hotel in July, where they were told by management to stay in isolation when they became ill.
"We stayed in the room and watched television. They kept asking if we wanted any sandwiches but I didn't want to eat after having the virus.
"I didn't think it was very good because I wanted to get some fresh air."
Another guest from Oxford wrote on the Tripadvisor tourism review website that her holiday became a "nightmare" when nine of her party became ill.
"The staff failed to tell us that several guests who had stayed in the previous week had been very ill," she wrote.
"We should have been told of the previous guests' illness and the hotel should have been thoroughly cleansed before more guests stayed."
Alfa Travel said it had followed guidelines provided by the Health Protection Agency and NHS Direct.
The company said the "primary control method for this illness is restricting the movement of infected people".
It added that it had not closed the hotel because the illness was spread through the air and "although closure of a building can have a marginal effect, this is primarily because it reduces interpersonal interactions".
Torbay Council said the hotel did the right thing in confining ill guests to their rooms and that it was not up to the local authority to tell hotels whether guests should be warned about an outbreak before they arrive.
In June, 30 guests at the Majestic Hotel in Torbay were affected by norovirus, but the hotel was closed for a week to try to eradicate the infection.