Cpl Mark Palin's body is repatriated to the UK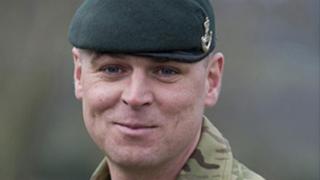 The body of Cpl Mark Anthony Palin from Plymouth, who was killed in an explosion in southern Afghanistan, has been repatriated to the UK.
Cpl Palin had been with a team clearing and recovering a cache of Improvised Explosive Device bomb parts.
The MoD said the 32-year-old, from Gloucestershire-based 1st Battalion The Rifles, died in the Nahr-e Saraj district of Helmand province on Monday.
His body arrived at RAF Lyneham on Thursday afternoon.
After a private ceremony his coffin was driven through the nearby town of Wootton Bassett.
Cpl Palin leaves behind his wife, Carla and son Lennon.
He enlisted in the Army in 1996, joining the 1st Battalion the Devonshire and Dorset Regiment in Paderborn and serving in Northern Ireland and Iraq.
He was deployed to Afghanistan this year following a posting training recruits at the Army Foundation College, Harrogate.
His death takes the number of British military deaths on operations in Afghanistan since 2001 to 377.