Devon winter fear for Dartford warblers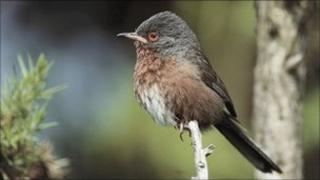 One of Devon's rarest birds is under threat from another bad winter, the RSPB says.
The Dartford warbler, which is found on east Devon heaths, has been badly affected by the last two harsh winters.
Recent gorse fires and another bad winter could wipe them out in the county, the charity said.
Dartford warblers rely entirely on insects and spiders and in cold conditions there is little to eat.
Toby Taylor, site manager at Aylesbeare Common nature reserve, said: "This year on Aylesbeare we've only had three singing males, when last year we had 13, and we're receiving similar reports from other sites.
"The best we can do is continue to maintain the heathlands in pristine condition and keep our fingers crossed we don't have another bad winter."
The RSPB is also calling on people attending East Devon Heath Week, which starts on Sunday 24 July, to look out for the birds.
Organiser Gemma Dunn said: "While we think we know where the remaining birds are there's always a chance we've missed the odd one."