Children using Plymouth Citybus to pay adult bus fares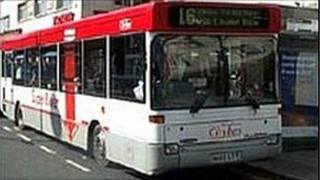 A bus company in Plymouth is to charge schoolchildren adult fares.
The move, which has been criticised by students, parents and head teachers, is because of rising operating costs, Plymouth Citybus said.
From September children will have to pay £3.50 before 09:30 - an increase of £1 - although cheaper tickets can be bought in advance.
Head teacher of Notre Dame School Fiona Hutchings said the firm was "targeting a captive audience".
The company said season tickets would cost between £10 for a week, or up to £480 for an annual pass, which a spokesperson said was similar to current prices.
'Moral issue'
Ms Hutchings said: "It seems to me that it's targeting a captive audience, children have to travel to school.
"Parents have said that paying so much up front is a concern for them.
"I believe there is a moral issue here."
Parent Tonia Newitt said it was an inconvenience to buy tickets in advance.
"We've all got rising costs, it's not just the company."
Citybus commercial manager Peter Oliver said children were travelling at a "peak time".
He said the company wanted to encourage people to buy tickets in advance to make its services more reliable.
The new fares start on 5 September.