Polish court boosts Exeter rapist Tomczak's sentence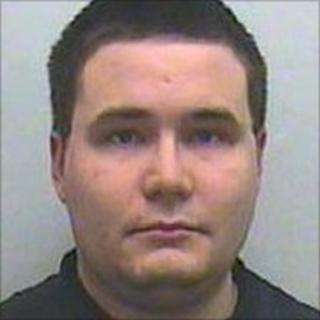 A man who raped a woman and left her for dead in Exeter has had his sentence increased following a review by a Polish court.
Jakub Tomczak, 26, was originally sentenced to 18 years in prison by a British court for the attack in 2006.
But a court in Poznan gave him 22 years, the maximum Polish jail term for his crime.
His victim, who was left brain damaged by the attack and forced to use a wheelchair, died in 2010.
Tomczak's lawyer said he would appeal against the court ruling, the Polish state news agency said.
The review took place following a ruling by Poland's supreme court in June relating to the sentencing of Polish nationals in foreign courts.
Tomczak, who is serving his prison term in Poland, was originally sentenced to two life sentences for rape and grievous bodily harm (GBH) by Exeter Crown Court.
The sentences were to run concurrently, and he was told he must serve at least nine years in prison.
Now, following the review, the court in Poznan has sentenced Tomczak to 12 years for rape and 10 years for GBH.
Under Polish law the sentences must run consecutively, totalling 22 years.
Tomczak was working in Exeter as a hotel porter at the time of the attack.
His victim, a 48-year-old single mother, had been walking home from a night out in the city with friends when she was attacked by him.
At his trial the jury heard that Tomczak had left her "for dead" - naked and unconscious - under a van.
Her injuries were so severe she was left with no memory of what had happened.
Tomczak returned to Poland after the attack but was traced after CCTV footage was shown on BBC Crimewatch.
He was brought back to the UK to face trial under a European arrest warrant, before being repatriated to Poland after his conviction.