John Pitcher jailed for Plymouth shooting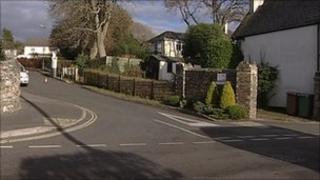 A man who shot his father to stop him finding out that he had stolen money from him has been jailed for five years.
John Pitcher, 21, of Leatfield Drive, Plymouth, opened fire at his 56-year-old father in the hallway of his home last December.
He was cleared at Plymouth Crown Court of attempted murder but convicted of wounding and pleaded guilty to fraud.
His father, also called John, said the attack was "totally out of character."
The court heard that Mr Pitcher had stolen £3,000 from a buy-to-let business his father and uncle ran to buy electrical items including a wide screen TV.
Pitcher had signed cheques to cash money from the business.
'Electric shock'
Two days before the shooting, Mr Pitcher senior, who also worked as an engineer at Devonport dockyard, spotted the anomaly in his bank account and told his son the bank was sending copies of the cheques.
On the day of the attack, his son took his father's shotgun from its case at his home in in Glade Close, Plymouth, and waited for him to return from work.
He told the jury he never meant to shoot his father but just to "scare him".
But David Gittins, prosecuting, said: "The fact that he loaded both barrels of a shotgun is very important to this case.
"We say that in that moment he shot his father, whatever he felt afterwards, there was only one reason to do that. He intended to kill him."
Mr Pitcher was hit in the shoulder in the attack and almost lost his right arm.
He told the court he had just returned from work when he was shot.
He said: "I turned on the light in the hallway and cannot remember anything from that point.
"I thought I'd had an electric shock. I looked towards the study and saw a silhouette there.
"As far as I am concerned this is totally out of character.
'Not believe it'
"If it had not been proved, I would not believe it. He never raises his voice. He does whatever is asked of him.
"He is somebody who tries to avoid confrontation. I have a very good relationship with him.
"If I had found out he took the money there would have been a row and I would have told him he would have to pay back the money."
Pitcher was unemployed at the time of the attack but had been due to join the Royal Navy two months later.