Exeter Airport defends new parking charges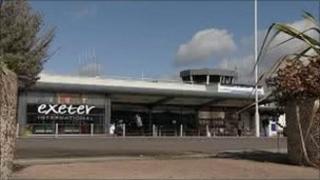 A Devon airport has defended its decision to charge people who pick up or drop off passengers at its terminal car park.
Exeter Airport said it was charging people £1 to park for 30 minutes. Previously customers could park for free for 10 minutes and then pay £2.
Some customers have criticised the charge in car park 1.
The airport said the charge was helping to maintain the car park and customer feedback had been positive.
The airport offers free parking for 10 minutes at car park 4, 800 yards from the terminal, but admitted that it would take 10 minutes on a shuttle bus to get there and back.
Car park 1 is 50 yards from the terminal.
Parking charges were introduced in April but airport managing director Jamie Christon said allowing only 10 minutes free before the £2 charge had been criticised by some customers.
He said the new charge of £1 for 30 minutes had received "positive feedback".
Mr Christon said: "The car park deals with up to 25,000 cars per month at peak.
"We can no longer subsidise the free use of that car park when we're having to spend large amounts of money on the car park for upkeep and technology."