Wife of Mark Stapleton speaks of Devon crash with horse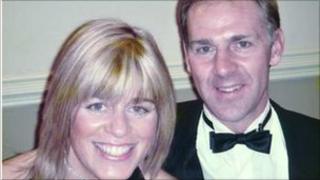 A woman whose husband died in a crash with an escaped horse said he was in "the wrong place at the wrong time".
Driver Mark Stapleton, 51, from Paignton, Devon, died in hospital after the crash on the A380 at Olchard near Newton Abbot on 25 July.
Wife and car passenger Julie said: "A horse suddenly appeared in front of our car. No time to scream or shout.
"The windscreen blew in and the damage to the vehicle where the horse hit left Mark with severe head injuries."
Mrs Stapleton, who was uninjured, said her estate agent husband was "my love, my life, my world and my soul mate".
The couple met in 1979 when she was a Sea Ranger and he was a Venture Scout.
"It was love at first sight. We did everything together and loved life to the full," said Mrs Stapleton.
"We had so many plans that will not happen as he was so cruelly taken away at such a young age."
Devon and Cornwall said that they were alerted about the loose horse five minutes before the accident.