Great Torrington businesses concerned about roadworks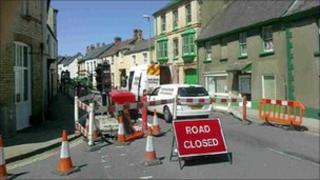 Some traders in a small Devon town have said they are losing business while the main road is closed for roadworks.
New Street in Great Torrington has been closed to all traffic for five weeks while the gas mains are repaired and the road is resurfaced.
Rose Pope, who works in a sandwich bar, said: "It's been very quiet, much quieter than we expected."
Devon County Council said the work was necessary and all businesses had been given advanced notice of it.
'Open for business'
Mrs Pope, who works in a Slice of Life!, said: "We normally get a lunch time rush, but we haven't had that this week.
"If they [visitors] don't live here, they don't know how to get around. They come here and they go again."
Staff at a jewellery shop in New Street said it had been noticeably quieter since the start of the works and Tina O'Bryan, a visitor to the town, said on Radio Devon's Facebook page to close a main road was "ridiculous and to do it during the summer season is crazy".
Councillor Andy Boyd said: "The businesses in the town have had plenty of time to arrange alternative routes with their suppliers and tour-bus operators, and shoppers will have clearly signed and easily accessible routes to the town centre.
"We cannot rule out some minor disruption, but the important message is that Torrington will stay open."
The work is due to be completed by 26 August.