Plymouth Airport sees last commercial flight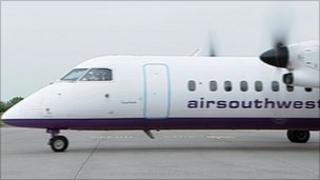 The last commercial flight has departed from Plymouth Airport after about 90 years of services from the airfield.
The last departure was Air Southwest's 15:20 BST flight to Glasgow.
The airline, which was the airport's sole carrier, has moved all remaining flights due to take off from Plymouth to Newquay.
The airport, owned by the Sutton Harbour Group, is to close in December. Plymouth City Council said a study was being done into the site's future.
Passengers who booked flights from Plymouth will still be able check in at the airfield, but they would be transported by bus to Newquay for their plane, the airline said.
This will continue until 14 September when the routes will stop altogether, it added.
All of the airline's Newquay services are to end by 30 September.
The airline said that a lack of demand meant that the routes were not financially viable.