Cord warning after Plymouth boy killed by window blind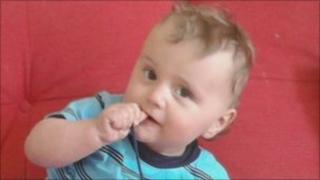 A coroner has urged parents to be aware of the dangers of blinds in the home after a 21-month-old boy from Plymouth was killed when trapped by a cord.
Caden Laine, from the Whitleigh area, was found dead in his bedroom in April.
At Plymouth Coroner's Court, coroner Ian Arrow recorded a verdict of accidental death.
Mr Arrow said he hoped the case would remind the parents of small children to be vigilant at all times as blinds could represent a danger.
The coroner said he hoped the publicity surrounding the case would help raise awareness.
At the time of his death, Caden's mother, Danielle Laine, said she had left Caden's bedroom for just a few minutes to get some milk.
The toddler was found with the beaded cord wrapped round his neck, the inquest heard.
It was believed he had climbed on to a chest of drawers near a window before the incident.
Ban call
The Royal Society for the Prevention of Accidents (Rospa) said at least 15 toddlers had been killed in accidents involving blinds in Britain since 1999.
It has called for blinds operated by cords - or chains - the "hidden hazard" in a home, and said it also wanted to see them made safer.
The British Blind and Shutter Association has made a video promoting safety when using blinds.
The association said it encouraged manufacturers to produce blinds which did not use cords or chains.
Caden Laine's family is campaigning for all such blinds to be banned.
After the coroner's ruling, his father, Tony Laine, said: "It's the worst things that's happened to me and my family, and Danielle's family.
"It's high time these blinds were banned, and the government should be putting adverts on TV to highlight such blinds are still in homes."