South West reservoirs 'half full' water company reveals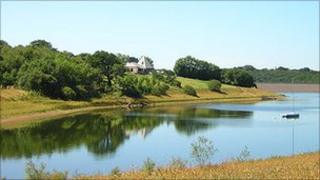 Some reservoirs in Devon are just over half full, figures from South West Water (SWW) have shown.
Information published by the water company showed that Roadford is operating at 56.5% and Wimbleball at 57.2% capacity.
Roadford reservoir has dropped by 15.3% since the same time last year.
SWW said the region had had about two thirds less rain than usual this year, but the levels were "nothing out of the ordinary".
'Dropped off rapidly'
Neil Whiter, from SWW, said: "Rainfall since December has only been about two thirds of average so it's not surprising that river levels are well below average.
"Reservoirs do continue to fall usually until late September so this is really nothing out of the ordinary."
Mr Whiter said smaller reservoirs had "dropped off very rapidly" early on in the year, with Meldon Reservoir dropping to 56%, but that SWW had "switched supplies to the largest strategic reservoir" and was easing back on the others.
Meldon has since returned from 56% to 92% capacity.
Rosemary Speed, a volunteer at the Kingsbridge community garden, said: "It worries me. We can't produce water that is not there.
"If we can find a way of recycling that water I think it's up to us to start doing it."
SWW said it was confident 2011 would be the 15th consecutive summer which would not require water restrictions.