Anglers rescued off Devon coast 'had no life jackets'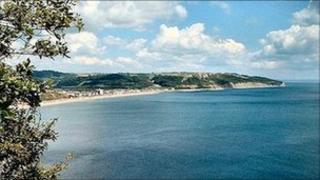 Three anglers are "extremely lucky to be alive" after being rescued from a capsized boat off the Devon coast, Portland Coastguards have said.
The men had no life jackets and ended up in the water after their 16ft (4.8m) boat overturned at speed before sinking off Seaton, coastguards said.
The anglers were rescued near the mouth of the River Axe by a passing boat at about 06:00 BST.
Coastguards said the three men were unharmed.
Portland Coastguard watch officer Roger Hoare said: "These three men are extremely lucky to be alive after making such a basic error as leaving their life jackets at home."