Paignton Zoo hand rears rare flamingo chick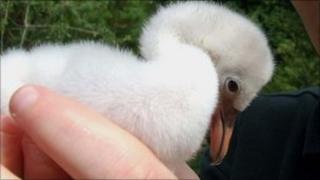 A flamingo chick at a zoo in Devon is being hand-reared after the egg was abandoned by its parents.
Paignton Zoo said it "occasionally" had to hand rear flamingo chicks.
The bird hatched on 21 July and is being fed every three hours by syringe with a mixture of children's porridge and fish.
The zoo has a flock of about 50 Chilean flamingos, which are classified as near threatened.