Devon children's centres in 'payment by results' trial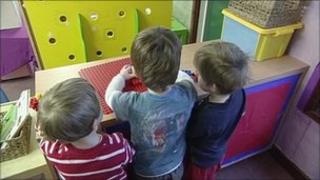 Children's centres in Devon are to take part in a "payment by results" pilot scheme.
Devon, which has 43 centres, is one of nine local authorities initially selected for the government study.
Centres will be financially rewarded according to the success of services they provide for children and parents.
The findings will be used to develop a set of measures of success so that "payment by results" can be rolled out nationally from 2013-14.
Payment by results means that the amount of money given to children's centres by the government or local authorities will be dependent on the results the centres achieve.
They will be assessed on their performance in reaching the most vulnerable families, improving family health and well being and raising the attainment of children at age five.
'More accessible'
Conservative-controlled Devon County Council put in a bid to be part of the pilot project.
Councillor Andrea Davis, the council's lead member for children, said: "We welcome the opportunity to be one of the first local authorities in the country to be trialling this scheme, and to influence at the outset the way in which it can benefit Devon's families.
"The scheme will provide an incentive for all children's centres across the county to be the best they can be, with a strong focus on improving key health and educational targets for the whole family."
Louise Morpeth, from the Social Research Unit in Dartington, a Devon-based charity which carries out research into children's services, welcomed the trial.
She said: "Unfortunately, there has not been a strong incentive on children's centres to reach out to the most vulnerable families in communities to provide tested and effective programmes of support.
"We know from recent research what it takes to make these services more accessible to families and payment by results will reward those who apply these lessons".
The pilot study will begin in September.