Daytime police boost for rural Devon and Cornwall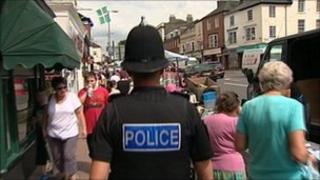 Devon and Cornwall Police are to amend radical changes to the way the force operates to provide more police on the beat in rural areas during the daytime.
The "Blueprint" was introduced in May as a way of making £47m savings and cutting 700 police posts.
It involved creating 28 regional response "hubs" but there were concerns that resources would be targeted at cities rather than towns and villages.
Now shift patterns are to be changed to better "tailor" deployment.
Chris Cook, a market trader in Honiton, said: "There aren't so many [police] on market day as there used to be, not even with community police officers.
"To protect people and customers then there could be a bit more support."
Chief Constable Stephen Otter said: "What we're aiming to do is tailor our deployment around individual areas so that the public get what they need."
Mr Otter denied that the changes meant the force had not got Blueprint right to start with.
He said: "We always knew that we were going to create a corporate shift pattern that enabled us to deal with the demand better.
"Then we would very carefully craft a deployment plan around each one so that small places in Devon and Cornwall are actually getting the service they need."