Devon villages pay to reinstate rural bus route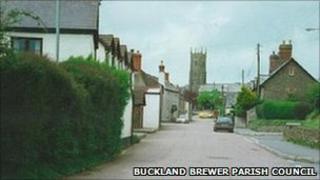 Six villages in north Devon have clubbed together to reinstate a rural bus service axed due to council cuts.
The 372 afternoon service from Barnstaple to Bradworthy in north Devon was suspended during the summer.
But now the parish councils for Bradworthy, Buckland Brewer, Littleham, Landcross, Parkham and Putford have raised £600.
The money raised is paying for the service to run every Friday afternoon over the summer period.
Following central government cuts in the spring, Devon County Council announced it was cutting £1.3m from its bus budget and reducing the 372 service from twice a day to once was one of the casualties.
'Well spent'
Jim Lowe, chairman of Buckland Brewer Parish Council who coordinated the "buy back" said reinstating the afternoon service one day a week would allow passengers to spend more leisure time in Barnstaple and Bideford.
By paying a total of £612, the parishes have been able to reinstate an afternoon service every Friday - the local market day.
Mr Lowe said: "This means our teenagers get over five hours in Barnstaple, enough time to go to the pictures."
Villagers in all the parishes have welcomed the service, with some older residents who are reliant on public transport describing it as "money well spent".
County Councillor Alison Boyle and Beacon Bus helped the parish councils with the mechanics of reintroducing the summer service.
Ms Boyle said: "The actions of these parish councils clearly demonstrates the benefit of parish councils working together for the good of the community."