Devon council objects to Swansea Coastguard closure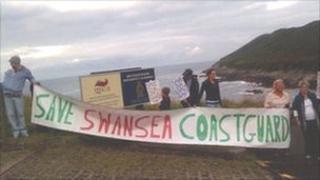 A Devon council committee is objecting to plans to close a Welsh coastguard station.
The Torridge Council scrutiny committee has approved a proposal to take part in a government consultation and formally oppose plans to close the station.
Swansea, which covers north Devon's coast, is one of eight stations around the UK due to close by 2015.
Ministers said the move would not affect safety and would lead to a more efficient service.
A council spokeswoman said that the authority's External Overview and Scrutiny Committee was to make its objections known to the consultation.
She added that the committee was recommending that a further objection was made by the full council too.
The recommendation would be debated by the full council at its next meeting on 15 August, she said.
Swansea Coastguard, which has 28 staff and deals primarily with emergencies in the Bristol Channel, handled 2,074 alerts in 2010.
A public campaign has also been launched in Wales to save Swansea station.
The consultation on the proposals closes on 6 October.
Under the government proposals, Brixham Coastguard station in south Devon is also to close.