Police drug recovery unit set up in Plymouth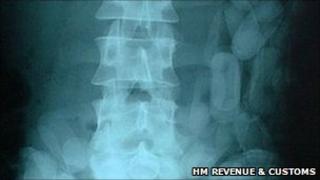 A special drug recovery unit has been set up by Devon and Cornwall Police in Plymouth.
The unit - near an emergency department - is specifically designed to arrest and manage the medical investigation of suspected drugs "mules".
Ch Insp Ivan Trethewey said: "Any illegal drug carried in this way can be extremely dangerous especially if a package becomes lodged or splits."
The force said the unit is managed in partnership with the local NHS Trust.
"For some time police forces across the country have found it challenging to deal with criminals who conceal illegal drugs on their person either by swallowing or secreting drugs in the body," Ch Insp Trethewey said.
Any type of accident can result in the death of a drugs mule if not dealt with very quickly, he added, which is why the unit has been located near an emergency department.
"The unit is a huge step forward in tackling this type of crime effectively and helps reinforce the message that Devon and Cornwall is effectively equipped to deal robustly with persons concerned in the transport and supply of controlled drugs," the inspector added.
Since the unit opened it has been used successfully in policing operations, including the recovery of heroin.