Fire at Bandvulc tyre recycling plant tackled by crews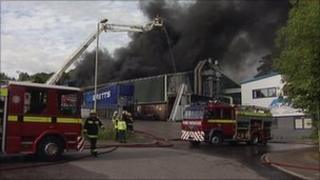 More than 40 firefighters spent the night tackling a fire at a rubber recycling plant just outside Plymouth.
Emergency services were alerted to the blaze at Bandvulc Tyres on the Lee Mill industrial estate just after 16:30 BST on Friday.
At one point, smoke blew across the nearby A38 and workers at other local businesses were told to leave the area.
About 50% of the 30m by 20m (100ft by 66ft) building was damaged, the fire service said.
The fire service said it had received numerous calls after large amounts of black smoke and flames were seen coming from the unit.
Fire investigation officers were to return in the morning to begin an investigation into the cause, it added.
No-one is believed to have been injured.