The America's Cup could generate £10m for Plymouth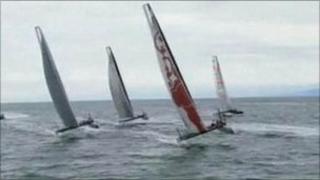 The international sailing event The America's Cup could generate £10m for Plymouth when it comes to the city, the council has said.
The city will host the second round of the series between 10 to 18 September.
The authority said: "The teams alone will require about 700 beds for 20 days which is an estimated £1.2m for the local economy."
Plymouth City Council said it could not disclose the amount the event was costing it.
It said "significant private sector contributions had been made" towards the event, which will be held in Plymouth for the first time.
Devon-based sailor Conrad Humphries, who has organised sailing events in the past, estimated it could cost the council about £200,000 for paying the organising authority, marketing, and specific projects.
"It is incredible value," he said.
The Portuguese town of Cascais will stage event one between 6 to 14 August, before the teams head to Plymouth.
The final leg of the qualifying event is due to be held in San Diego, California, between October and December.