Dartmoor golf course removed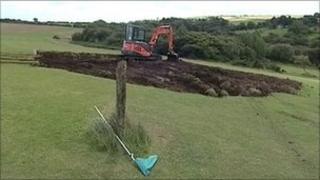 Earth movers are digging up a golf course which was created on Dartmoor without planning permission.
Dartmoor National Park Authority (DNPA) ordered the direct action at Reddacleave Farm, Dean Prior, on 5 August after enforcement action failed.
The nine-hole course will be returned to a habitat for moorland grass over the next two days.
Landowner John Dance was unavailable for comment but said in 2009 that the course had not damaged the area.
'Compelling reasons'
The DNPA said the manicured landscape with mown fairways, tees, greens and flags was "at odds with the surrounding farmland and especially with the open moor".
It said: "The golf course is considered to have a detrimental impact on the character and appearance of this part of the National Park."
Stephen Belli, the DNPA's director of planning, said: "The authority is using landscape contractors to restore the land to its original profile and character and remove unauthorised greens and tees.
"This will be the first instance of the authority taking direct action for many years and we consider that there are compelling reasons for taking such action to remedy the breach."
In 1996 the DNPA started enforcement action against Mr Dance to restore the golf course.
Mr Dance told a meeting of the DNPA's Development Management Committee in 2009 that he would remove the course although he maintained that the flora and fauna of the moor had not been damaged by the course.
But the DNPA said on Monday that "little has been done" to comply with the enforcement notice.