Devon fin whale death investigated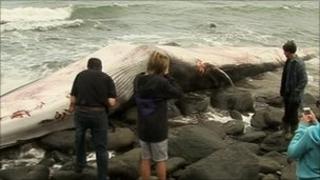 Marine experts are investigating what might have caused a 59ft (18m) whale to become stranded.
The body of the 19 tonne mammal was discovered on rocks near Lynmouth on Tuesday with a large chunk missing from a rear fin.
Scientists from the Zoological Society of London have examined the body to try to establish the cause of death.
It said the results of the post mortem on the whale, one of an endangered species, were expected shortly.
A cordon has been set up around the whale, which has begun to decompose, to protect members of the public from infection.
Fin whales are normally found in large numbers in the Bay of Biscay, but a pod of about 20 were sighted in the Celtic Deep, between north Cornwall and south west Pembrokeshire, in May.
The have powerful sounds, allowing them to communicate with each other over vast distances.