Starcross sports pavilion destroyed in fire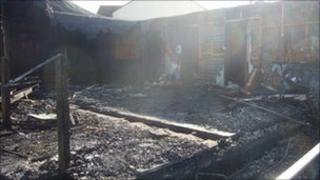 A village sports pavilion in Devon has been destroyed by fire.
Devon and Somerset Fire and Rescue Service were alerted to the fire at Generals Lane in Starcross in the early hours.
Crews from Dawlish, Teignmouth and Exeter tackled the blaze, which is believed to have been started deliberately.
Football equipment, showers, toilets and a marquee were destroyed in the blaze, which police are investigating.
'Nothing to offer'
Megan Debenham, the clerk of Starcross Parish Council said, the village now has no building or facilities to hold community events.
"It's extremely disappointing for Starcross because it's the only public building in the village and we had a number of events booked for the near future," she said.
"On Sunday we were supposed to be hosting a charity football for Dawlish... now we don't have a goal net, a shower or even a toilet - we have nothing to offer."
The wooden-fronted pavilion was built in the 1930s
Ms Debenham said a large marquee, recently purchased by the council to make it easier to hold local events, was also destroyed in the blaze.
"Starcross has plans in the future to build a proper community hall, but this makes it very much more difficult to raise funds if we've nowhere to hold events," she said.
"The fire brigade has a very strong suspicion it was arson, which is extremely sad because the damage has been done to the local community."
A spokesman from Devon and Cornwall Police said the incident was being investigated.