Polar bear attack man Mike Reid has surgery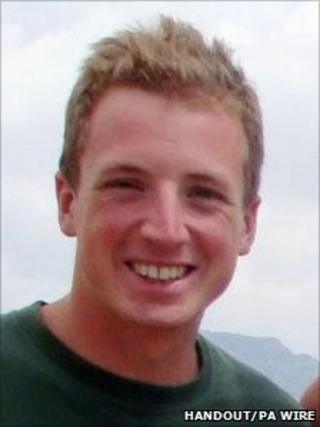 A man injured in a polar bear attack off Norway has undergone surgery in Plymouth.
Expedition leader Michael "Spike" Reid, 29, was one of five people mauled in the attack on 5 August, in which a teenager died.
Mr Reid, who shot the animal, underwent a day-long operation at Derriford Hospital on Friday.
After the operation, his father Peter said: "The things they set out to do have been successful."
Mr Reid has been in a stable condition in Derriford Hospital in his home city of Plymouth since Monday.
In a posting on Twitter on Friday morning, Mr Reid said: "At the mo I can't breathe, eat or talk thru my mouth.
"I'm off 4 my big op now. Want my broken jaw, fractured skull & eyesocket damage fixed."
The attack on the campsite, near the Von Post glacier, about 25 miles (40km) from Longyearbyen, took place early in the morning.
Eton student Horatio Chapple, 17, from Wiltshire, was killed during the mauling on the trip to Svalbard.
The trip for 80 people was organised by the British Schools Exploring Society, a youth development charity based in London.
Polar bears are the largest land carnivores, reaching up to 8ft (2.5m) and weighing 800kg (125 stone).