Admiral fountain restored in Plymouth's Devonport Park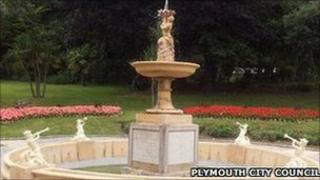 A refurbished Victorian fountain dedicated to a sailors' champion has been switched on once again at a Devon city park.
It was originally installed in 1863 as a memorial to Admiral Sir Charles Napier, who campaigned for naval reform to improve sailors' conditions.
Napier was one of the most widely-known naval officers in the early Victorian era.
In 1855 he was elected as the Member of Parliament for Southwark, where he often - and openly - criticised the admiralty and naval policy.
After his death in 1860, Royal Navy seamen asked for a national monument in his memory, but having fallen from favour with the admiralty, nothing was done.
Sailors aboard HMS Cambridge in Devonport Dockyard then launched a campaign and, as Napier was held in such high regard, hundreds of sailors and marines donated a day's wage to fund the Napier fountain.
The work on the fountain is just part of the multi-million pound regeneration of Devonport Park, which is finally nearing completion.
"This is one of the last pieces of the jigsaw to transform the park and it is fitting that it honours a man who fought for the lot of the common sailor and that Devonport was so instrumental in getting him recognised," Plymouth City Councillor Mike Leaves said.
"It's also lovely to be able to see this finish just as the city gears up for the America's Cup World Series as it's a great reminder of our incredible maritime past."
The £5.3m regeneration of the park has been a joint venture involving the Friends of Devonport Park, the city council and the Devonport Regeneration Community Partnership.
Friends chairman Mike Gallagher said: "People have committed an enormous amount of time and energy into creating a park to be well and truly proud of."
A £80,000 Heritage Lottery Fund grant has paid for the restoration of the Napier fountain, which includes reinstating the figurines, reconnecting the water and repairs to the pedestal and bowl.
Missing stonework was recreated from photographs by historic monuments specialist, Andy Mitchell.
"Doesn't it look just grand," said 73-year-old Bill Smedley.
Mr Smedley, an ex-serviceman who lived in Plymouth in the 1970s, was visiting the park during a holiday from his home in Somerset.
Open day
"I never knew the history of the fountain, but now I do I'm so glad they've done this."
As well as the restoration of monuments and the Victorian bandstand, the park has a new adventure playground, refurbished tennis courts, wildflower meadows and rose garden and a new pavilion with toilets and a cafe.
Two people who have lived opposite the park for years are now employed in the cafe.
Amy Stephens, 22, said when she is not working, she still comes to the park with her two children, aged three and four.
"It's so lovely now and it's such a great place for families with children," she said.
Her sentiment is shared by co-worker, 50-year-old Diane Hook.
"I've lived in Victoria Place since 2001 and I've always used the park," she said.
"It's always been nice, but it's even better now... and it only takes two minutes to get to work.
"People coming in to use the cafe can't believe the change in the park and they say how nice it is to be able to walk around then come here for a drink or something to eat."
An open day at Devonport Park on Sunday 4 September will include live music, children's entertainment and a dog show.