Free cafe in Seaton inspired by loaves and fishes story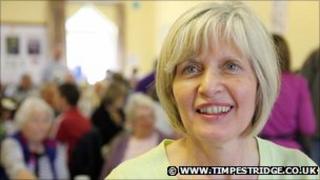 Inside the FREEdom cafe in the Devon seaside town of Seaton is a poster which reads: "Two thousand years ago a friend of mine fed a crowd of people he cared for lunch.
"The loaves and fishes went down a treat. He's doing the same today only its called FREEdom café."
Mary Casey, who started the cafe nearly two years ago, said: "That to me is exactly what sums it up, that's what I am, a Christian trying to live out God's message of love for everyone in today's world."
Mrs Casey runs the community cafe on the third Saturday morning of each month at St Gregory's Church in Seaton.
In a part of the UK not short of tea shops and country pubs, the cafe has a USP - everything on offer is completely free of charge.
Mrs Casey said the idea for it was driven by her faith and a desire to address the modern culture of affluence.
She said: "The message in today's society seems to be you have to HAVE to be successful.
"You have to have a good job, a nice home, designer labels, holidays, a university education."
"If you don't have these things you have not succeeded, you can't be happy, you are not as good as someone who 'has'."
Mrs Casey said she was struck by the Feeding of the 5000, the biblical story in which Jesus miraculously fed a hungry crowd with just three loaves of bread and two fishes donated by a boy.
Waitress service
She said: "I thought I would try to live out the story of the loaves and the fishes to demonstrate we are all loved by God regardless of what we have.
"In God's eyes we are all equal, so the only way to show that in our community cafe is not to charge for anything."
Mrs Casey said her church originally had some concerns about paying for the project but a number of people supported the idea and volunteered their time and skills.
When the cafe opened in September 2009 there were about 60 orders served.
Now a rotating team of about 50 volunteers welcomes up to 200 people a month.
The cafe offers a waitress service - "It's not a soup kitchen," said Mary - and serves fair trade food, which is locally-sourced where possible.
It also has a free "rummage" stall and book stall for people to help themselves.
The cafe explicitly does not ask for donations but over the past two years money left by grateful customers has raised £800 on top of running costs, which has been donated to charity.
Mrs Casey said the cafe was a community venture and was not about getting people into church.
"You don't have to believe in the same things as I do to eat at the cafe, it's not about putting bums on church seats."
"I often think the Church of England presents itself as a bit out of touch with today's society... we have to remember that life's not easy and often busy for most people.
"For many families Sunday is the only time they spend together and worshipping together in church might not be an option.
"People should be able to feel the church is there for them all the time."
'Fresh expressions'
Mrs Casey said a 15-minute slot of spiritual reflection based on Christian Celtic worship took place after the cafe closed.
She said some of the cafe's customers had started coming to it, although she made it clear there was no expectation for them to stay.
The cafe has been held up as an example for other Anglican churches in Devon to follow.
The Reverend Canon Anna Norman-Walker, in charge of mission for the Diocese of Exeter, said: "This is a great example of a local church engaging with their community in a creative and generous way.
"This is what lies at the heart of the Fresh Expressions of church movement, rather than only inviting people along to church on Sundays, the church moves out into the community and meets people 'where they are'.
Fresh Expressions is something of a buzz word in the Church of England at the moment, where there is a move to encourage new forms of church to engage better with communities.
Mrs Casey said Seaton seemed like a prosperous place but "there are a lot of retired people, a high number of residential homes, high unemployment and young families."
"People seek us out."
"We've got regulars now, we have 'gentlemen of the road' sitting and eating with people from town who might have looked the other way once."
"It's about society accepting each other and having more tolerance."