Council to accept Plymouth City Airport closure notice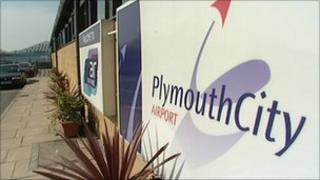 There is "no economic rationale" to keep Plymouth Airport open, an aviation study has found.
Sutton Harbour Group, the airport's operator, announced its intention to close the airport earlier this year.
The last commercial flight left Plymouth Airport in July and no alternative operator has been found.
Plymouth City Council is expected to formally accept Sutton Harbour Group's notice to close the airport at a meeting on 23 August.
When Sutton Harbour Group announced its intention to close the airport at the end of the year, it said it had suffered "significant losses in recent years" and was facing a £1m loss.
Air Southwest, the airport's sole carrier, stopped flights in July, saying Plymouth routes were no longer financially viable.
The council, which owns the land on which the airport is sited, said it had made "extensive efforts" to find an alternative operator.
Twelve airlines and 17 airport operators had been approached about running a downgraded service at the airport, but all had declined.
Discussions had also taken place with the Civil Aviation Authority and neighbouring authorities to find a way forward.
A study by aviation experts Berkeley Hanover Consulting found there were not enough profitable routes out of Plymouth and the uncertainties and costs of trying to achieve even a modest route network would be a "substantial risk".
Runway restrictions
It was "unable to identify an economic rationale for the council to underwrite the commercial risks involved in keeping any scale of airport operations".
The study highlight the short runway at Plymouth, which restricted aircraft types to 19 to 50-seater planes, thus preventing low-cost and holiday charter markets.
The economic potential of the airport was further constrained by geography and surrounding airports .
In 1995 Plymouth Airport accounted for 5% of the region's air passengers, but that figure fell to less than 1%.
The report concluded the airport could possibly operate a very limited scheduled passenger airport or a general aviation airfield, but "the likelihood of commercial profitability is low to non-existent".
Councillor Ted Fry said the council had wanted to explore every option before considering Sutton Harbour's closure notice, but its role was now clear.
The cabinet is being recommended to accept the notice of non-viability, allowing Sutton Harbour to close the airport.
'Entrepreneur hope'
It will consider recommendations to secure the continued use for military flying and search and rescue.
The report has also suggested the airport land is protected from short term planning applications.
Tim Jones, chairman of Devon and Cornwall Business Council, said the council's report made it difficult to see a future for the airport.
"It's a very sad statement to make... but it's looking pretty depressing," he told BBC News.
"But we shouldn't completely rule out the possibility of an entrepreneur somewhere out there who might want to buy the airport."