North Devon Council pilot not to collect 'side rubbish'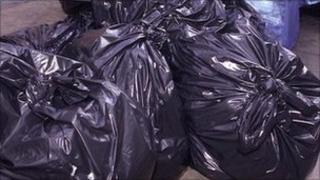 People who leave out extra rubbish in parts of North Devon will not have it collected by the council.
"Excessive" waste left in bags next to a household's official bin will be left behind during the trial by North Devon District Council.
It said that of the 39,000 homes across the district, 30% leave extra bags of rubbish out alongside the bin.
If the pilot scheme is successful, it will be rolled out across the rest of the area.
The council said it wanted to encourage people to recycle more and send less rubbish to landfill.
Rodney Cann, deputy leader of North Devon District Council, said the scheme should encourage more recycling.
"It has always been our policy to have no side waste but we've never enforced it," he told BBC News.
He said there were many reasons to introduce the pilot scheme.
"As well as being an eyesore and making an area look run down, side waste attracts rats and other vermin and damages the local environment, he said.
"On top of this, there are additional costs to handling side waste.
"Therefore, by introducing this, we hope it will not only cut down on the amount of waste created, but also make people think more about the things they can recycle instead."
Enforcement unlikely
But Jean Marshall, who runs the shop in the village of Parracombe, said: "It won't work.
"[The council] is out of touch with normal life.
"It'll end up in the woods, in the fields.
"People can't be bothered sorting rubbish."
During the trial period, householders will be actively supported and encouraged to produce no side waste, the council said.
The exact location and start date of the pilot scheme have yet to be decided.