Cordon gives Exeter conker tree protection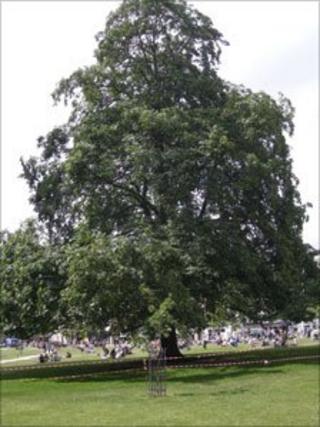 A cordon has been put around a large conker tree in a Devon city in order to protect it from people sitting beneath it.
Tree experts have said the horse chestnut on Cathedral Green in Exeter is not getting enough moisture.
Paul Snell, spokesman for Exeter Cathedral, said the ground was being compacted and the mature tree had already lost a large branch.
A sign warning people of danger has been put up with the cordon.
The tree, which is the responsibility of the cathedral, is packed with conkers.
When they fall, they will be gathered up so they cannot be used as missiles, Mr Snell added.
One visitor to Exeter said: "We thought the cordon had been erected for bonkers health and safety reasons, to stop conkers landing on people's heads."