Concerns over Gypsy site plans in Plymouth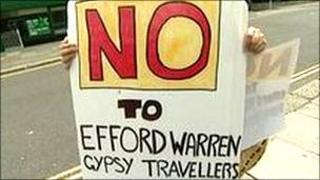 Campaigners in Plymouth have said a site earmarked for Gypsies is the wrong choice because of road safety concerns.
Plymouth City Council said 55 pitches could be spread across locations in Efford, Roborough and St Budeaux.
Campaigners said they were concerned about the speed of traffic and lane width at the proposed site in Efford.
Plans for pitches in the area were previously put on hold after the city council twice failed to get government funding.
'Very dangerous'
Phil Brown, chair of the Thames Gardens Residents Association in Efford, said: "We've collected 1,000 signatures against the Gypsy travellers' site - especially its location.
"We feel it will be very dangerous, it's in a small lane, there's a lot of traffic going along it already."
Gordon McKillop, from Efford, said: "The speed of traffic makes this site a dangerous location."
Plymouth City Council said an extensive public consultation had helped identify the most suitable sites, and the three locations would tackle the problem of unauthorised encampments.
The authority said it cost about £300,000 a year to clean up after people who illegally set up home at sites around the city.
In 2009 when the city council first announced its plans to build a 10-pitch travellers' site on disused council land at Military Road in Efford Warren, it received more than 200 letters of objection and a 1,000-signature petition against the proposals.
Mr Brown said he felt the opposition would be even stronger now.
He said locations on the edge of the city would be more suitable.