Lynmouth fin whale's jaw bone goes missing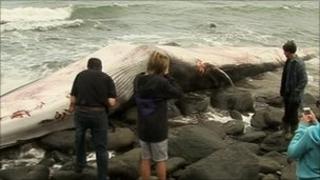 The jawbone from a 59ft (18m) fin whale which washed up on the north Devon coast has gone missing.
The fin whale, the second largest species of whale, was washed ashore at Lynmouth last week.
It is believed that the 15ft (4.5m) jawbone was taken whilst the cut-up carcass was being hauled away, Exmoor National Park said.
It was destined for display, but staff believe it was taken by trophy hunters or possibly to sell on.
Park marine biologist Dr Stephen Head said the fin whale was classed as a royal fish - property of the Queen - and was internationally illegal to sell. But he said it might "sneak out on to the internet market in a few months' time".
He also that smell from the jaw itself would be overpowering until it was cleaned up properly.
Fin whales are normally found in large numbers in the Bay of Biscay, but a pod of about 20 were sighted in the Celtic Deep, between north Cornwall and south west Pembrokeshire, in May.
The Lynmouth mammal, found by members of the public and believed to weigh between 40 and 50 tonnes, had extensive cuts to its body and part of its tail was missing.
Fin whales can grow up to 90ft (27m) have powerful sounds, allowing them to communicate with each other over vast distances.