RSPB plans falcon watch in Plymouth city centre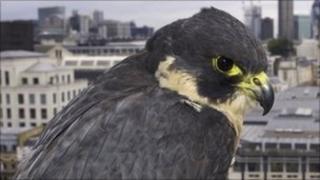 Viewing areas could be installed in Plymouth city centre for people to watch and find out more about the peregrine falcons living there.
The RSPB said it was also considering a platform for falcons on the Guildhall, and helping them at the civic centre where they are seen regularly.
The protected species is often seen consuming prey on the window ledges of the centre, it said.
Pigeon fanciers criticised the plans, saying falcons attacked racing birds.
'Protecting predators'
Peter Exley, from the RSPB, said the organisation hoped to install the viewing areas "so people can understand them (the falcons) more".
He said: "They're much misunderstood. They're a native natural predator and they really are an outstanding bird."
Talking about the Plymouth sightings, he added: "It's a case of they've decided to go there by themselves.
"They've done it for two very clear reasons: one, there are buildings they can nest on with nice safe edges.
"Two, there is lots of prey around such as pigeons and gulls."
Terry Luscombe, from the Devon and Cornwall Combine of Racing Pigeons, said he wanted to know why the charity "seemed to be protecting predators" and not other species.
'Ripped to pieces'
He said falcon attacks on racing birds occurred "any time we let them out".
"They're coming home ripped to pieces," he said.
"They should tell us how many pairs there are in the region.
"They won't tell us the true figure because, once they do, they'll have to come off the endangered list."
The RSPB said numbers of peregrines were published and there were an estimated 1,400 breeding pairs in the UK in 2002.
Mr Exley said: "The reason they are protected is because they are still poisoned and shot. There is no reason for doing this.
"They do take racing pigeons, but peregrines have a small impact."