Paignton Zoo celebrates toucan and rare crane chicks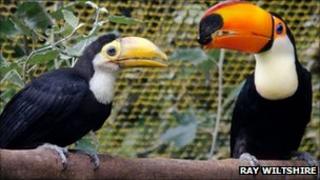 A Devon zoo is celebrating after two species of bird have successfully bred and hatched young.
Paignton Zoo said two toco toucan chicks had hatched at the beginning of June. It was the first time the species had bred at the wildlife park.
An endangered red crowned crane chick hatched in the middle of June - the first time in several years the species had bred at the zoo.
A spokesperson said about 3,000 cranes were believed to remain in the wild.
Senior head bird keeper, Peter Smallbones said: "It's brilliant that we have bred them [toucans] here, they aren't bred that often anywhere."
The toco toucan is the world's largest toucan.
Mr Smallbones said the red crowned cranes had not been bred successfully at the zoo for a few years.
"It's always good news when we breed an endangered species," he added.
A zoo spokesperson said the crane was one of the largest and rarest in the world.
Adults can grow up to 158cm (62in) tall.
The species is listed by the International Union for the Conservation of Nature as Endangered.