Otter watch launched at Devon Donkey Sanctuary site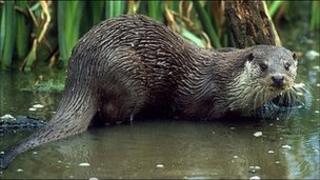 An animal welfare charity in Devon is running an otter watch programme at its site after signs were found to suggest the species might be living there.
Otter-shaped paw prints and half-eaten eels have been found near the river that passes through the farm at the Donkey Sanctuary in Sidmouth.
The charity said it was keeping watch for further signs at Paccombe Farm near, Sidmouth.
The charity occupies 400 acres across Devon and Dorset.
'No stranger'
Farm manager Annie Brown said: "It's very exciting that otters appear to be taking up residence, and we will be keeping watch for further signs of them, and hopefully a sighting or two in the not too distant future.
"Otters are no stranger to Donkey Sanctuary land - 2007 marked their return to the River Axe at our East Axnoller farm near Beaminster, Dorset, after many years of being absent," she added.
The charity said it was carrying out regular patrols to try and gauge the amount of otter activity in the area, and would work with the Devon Wildlife Trust to a keep a record of any sightings.
It added that it also work to improve the habitat in the hope to encourage more otters into the area.
The Devon farm occupies 93 acres of woodland and 81 acres of fields and grassland through which the River Sid runs.